There may be times when you have a ticket you're working on that you would like to add other users (followers) to that ticket that may not be an agent or requester. Maybe you just want to keep these followers apprised of the communication of that particular ticket. This is what we call Followers, a simpler way of explaining this would be the same as adding CC and BCC emails when composing to an email.
How do I add followers to an existing ticket?
Please note: You can only add followers after the ticket has been created. Also, there are 2 steps that need to take place for this to work so make sure to read the whole article.
Step #1
When you are viewing the details of a ticket on the right side click on the link add followers.
After clicking on the link you will be present with 2 fields in which you can add multiple email addresses.
CC: Carbon Copy
BCC: Blind Carbon Copy
To add an email simply type it in the field and either select from an existing user or to enter a whole new email just hit enter on your keyboard when you are done.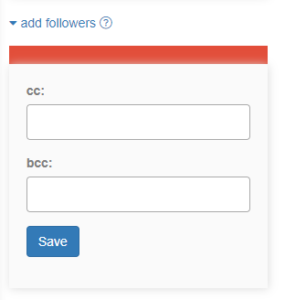 Awesome! Am I done?
No, there is one more important step.
Step #2
We have created the power for you to choose when and where these followers can be notified through email by adding a new Action in your TIcket Rules.
Head on over to your Ticket Rules and either add or edit an existing rule. For instance here is the rule that sends an email to the requester when an agent leaves a comment.
As you can see in the image below this rule sends an email to the requester.
In this same rule, we can add another action to also send emails to the ticket followers. Click on Add action and copy the image below
Then at this point, you can add a subject and body of your choosing. Save your rule and you're done!